My almost thirty years in aviation started in April 1991 when I completed Tower Air's flight attendant training. They were an incredible airline to work for, as they did charters around the world, as well as had contracts with the military. Wherever there was a military base, we went there! Tower Air was frequently contracted to operate military flights, plus we had frequent scheduled flights, charters, sub-service flights, and occasional disaster relief flights. Wherever there was a problem in the world, we invariably ended up going there. Without exaggeration, we used to watch CNN to figure out where we might go next. We took troops in and out of Saudi Arabia, flew the Catholic 101 Foundation around the world, Dr. Pepper charter as a reward for their top-performing employees, in 1992-1993 we flew United States and Italian troops into Somalia, in on numerous occasional transported United Nations Peacekeeping troops around the world.
December 20, 1995. On this day, Tower Air had it's one and only accident. During departure, on a slush and snow-covered runway, the plane veered off the runway. The plane wasn't terribly damaged when you think of airplane accidents with broken fuselages, but a friend and coworker of mine was injured while seated at the 747's R4 flight attendant jumpseat from an improperly secured ice cart that struck her and severely damaged her right shoulder. With that accident heading home, I changed my view towards aviation safety and I knew I eventually had to do something.
A few years later, December 1998, I stopped working as a flight attendant and became an Air Transportation Ground Instructor/ Air Transportation Supervisor, training initial new hire flight attendants. I gained significant experience as an instructor, including training some of the original AirAsia flight attendants in Malaysia utilizing the Malaysian Airlines Academy training center. I also went on to be the Hajj 2000 base supervisor over in Jeddah, Saudi Arabia.
While in Saudi Arabia, I was interviewed and hired on the spot by the Saudi Aramco Aviation Department, managing and responsible for the entirety of the flight attendant operation, including development and design of their flight attendant manual and implementing a flight attendant training program based on part 121 flight attendant training standards. In addition to writing their manual, training programs, company memos, I was sent to Singapore to attend their week-long dangerous goods training program. I then took over training program development and instructing from the Safety Pilot their IATA Will-Carry Dangerous Goods training program. I then trained their helicopter pilots, fixed wing pilots, flight attendants and all ground staff on dangerous goods. The photo below is one of my Lead Flight Attendants outside my office!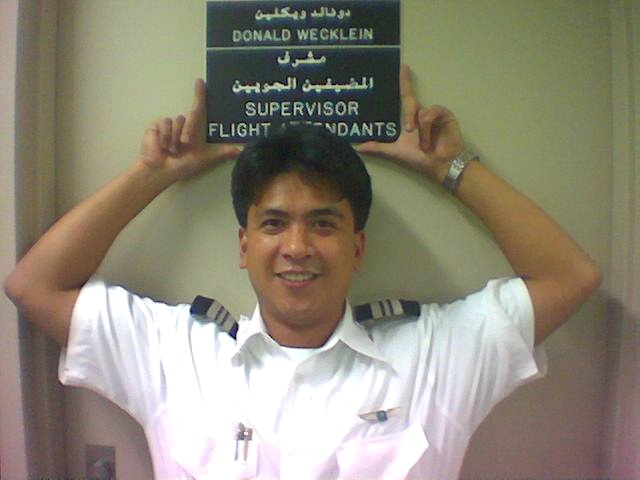 In June 2004, I left Saudi Arabia and returned to the United States. Wanting to learn more about airline operations, a few months later I successfully completed training at Flight Safety International, located at La Guardia airport, New York, and earned an FAA aircraft dispatcher certificate. A few weeks afterward I was hired by Aerodynamics, Inc. in Oakland, Michigan, as their Director of Inflight. I made known my passion for developing and facilitating training programs, so in addition to all of the in-flight management and training development and responsibilities, I took over the dangerous goods training program and airline security training program for pilots and flight attendants. I also went on to become a certified American Red Cross First Aid/CPR/AED instructor. Additionally, I completed an Airbus A319 aircraft add-on certification, successfully completing the aborted takeoff (mini-evac) demonstration, and extended overwater certification (ditching demo).
In late 2006, with all the knowledge and experience I gained, instead of being able to make a difference in aviation safety at just one airline, I wanted to make a difference for many airlines. I reached my career goal, becoming an FAA Aviation Safety Inspector – Cabin Safety, otherwise commonly known around the world as a Cabin Safety Inspector.
Next on my growing list of ambitions was wanting to help airlines around the world increase passenger safety through improved flight attendant training programs, which leads to better-trained crewmembers, completing the circle of safety. Between 2013 – 2015 I did consultant work on contract for a major Middle East airline to improve their flight attendant training program. After I finished that lengthy project, in 2015 I formed One Cabin Safety, a consulting company to evaluate and improve flight attendant manuals and training programs for airlines around the world, with a particular focus on Asia.
In August 2016, It was time to share my extensive knowledge and experience with many airlines in Asia. At my own expense, I traveled to Bangkok with my friend Allan Tang as primary instructor from the Singapore CAAS, to work as a co-instructor for the week-long, International Civil Aviation Organization hosted, Cabin Safety Course, attended by numerous Asian airlines. Attendees included cabin safety inspectors from the region, managers of in-flight training, flight training instructors, and other safety-related personnel.
Then, in 2018 I was selected to be a presenter at the International Air Transportation Association (IATA) annual Cabin Operations Safety Conference, where I presented to over 300 attendees, representing more than 100 airlines, my topic, "Was it the crewmember or was it the system that erred?" Again, my passion for promoting aviation safety, and desire to help improve flight attendant manuals and training programs through showing airlines how to do self-reflection when things go wrong, was fulfilled. I did this by sharing my perspective on the importance of clear communication in manuals and training programs, encouraging evaluation and design of procedures that leave no room for misinterpretation. I was going to share my knowledge again in 2020 at the IATA Cabin Operations Safety Conference originally scheduled in Macau, then moved to Vancouver, then canceled due to COVID-19.
Today, I continue my safety outreach through sharing information, regulatory citations, and industry best practices with friends working in inflight departments at airlines in India, Saudi Arabia, Japan, Thailand, Indonesia, Philippines, Korea, Chile, The Netherlands (Holland) and other aviation friends in numerous countries.
Working together and sharing information, we can collectively improve passenger safety through standardization of information and procedures, and bring passenger aviation safety to its highest level through well-written manuals, used for the design and presentation of comprehensive flight attendant training programs.